A teacher and entertainer with a gift for inspiring adults, children and seniors.
(Ask about customized programs for adults and children with special needs.)
• Online classes • Group workshops
 

• Private parties • Community events
Why Hire Dan?
He is a master entertainer who engages easily with individuals or groups of seniors or children.
ALL AGES & SKILLS
He's the kind of teacher whose engagement is so rich, the lessons learned are as much about life as they are chords and songs. He reminds us that being a grown-up doesn't have to be all serious business: that playing games, singing songs, caring for others and learning about ourselves, is a valuable and necessary part of adulthood.
ALL JOY
He's the guest you want at your birthday party making everyone laugh, sitting at your kitchen table making everyone want to smile and sing, engaging with the seniors and children in your life to make their lives richer. Even through a screen, Dan's larger-than-life personality fills hearts and inspires joy.
ALL FORMATS
The quarantine of 2020 has taught us much about connecting and and made a lot more possible. Dan can be a Song Chef through Facebook Live, Zoom Conferencing or FaceTime. He can teach music lessons online.
Dan Fewings is a talented and trusted performer, entertainer and teacher.
Spreading Joy
Spinning Magic
One Smile at a Time
"It is the supreme art of the teacher to awaken joy in creative expression and knowledge."
– Albert Einstein
"…he's a funny guy with lightning wit and sense of humour. It's a privilege to have the opportunity to learn guitar from a guy with so much to offer to the world of music and entertainment."
– Guitar student of Dan's
"If we plant the right seeds, tomorrow will be better.  If you put out good things, then you'll get good things back. That's part of our responsibility as entertainers."
– Ben Vereen
"Dan has an infectious energy and excitement about anything and everything that fosters connections between people. He can captivate a full room with his musical, dramatic and comedic talents while equally reaching out to the one person 'on the fringe' who needs his special kind of kindness."
– Denise McCracken
"It is the long history of humankind (and animal kind, too) that those who learned to collaborate and improvise most effectively have prevailed."
– Charles Darwin
"There are not enough improv phrases to conjure up the immense contribution Dan Fewings has made to this community. No doubt, he has helped bridge the gap between the Trent University, and Peterborough communites through his varied activities, and as a consequence made Peterborough a more welcoming place to live."
– Peterborough and District Pathway of Fame induction profile
Guitar Lessons
Learn guitar, autoharp, ukulele or find your rhythm with percussive chicken shake eggs or celtic drum. How about learning to play the spoons? Throughout Dan
'
s career teaching music and drama, he is known for creating a special rapport with students of all ages and ability. Customized lessons can be as short or long, frequent or occasional as you want. All ages and abilities. Available on Zoom.

Dan and Gavin get together for a jam on Zoom once a week. They share the singing and the playing!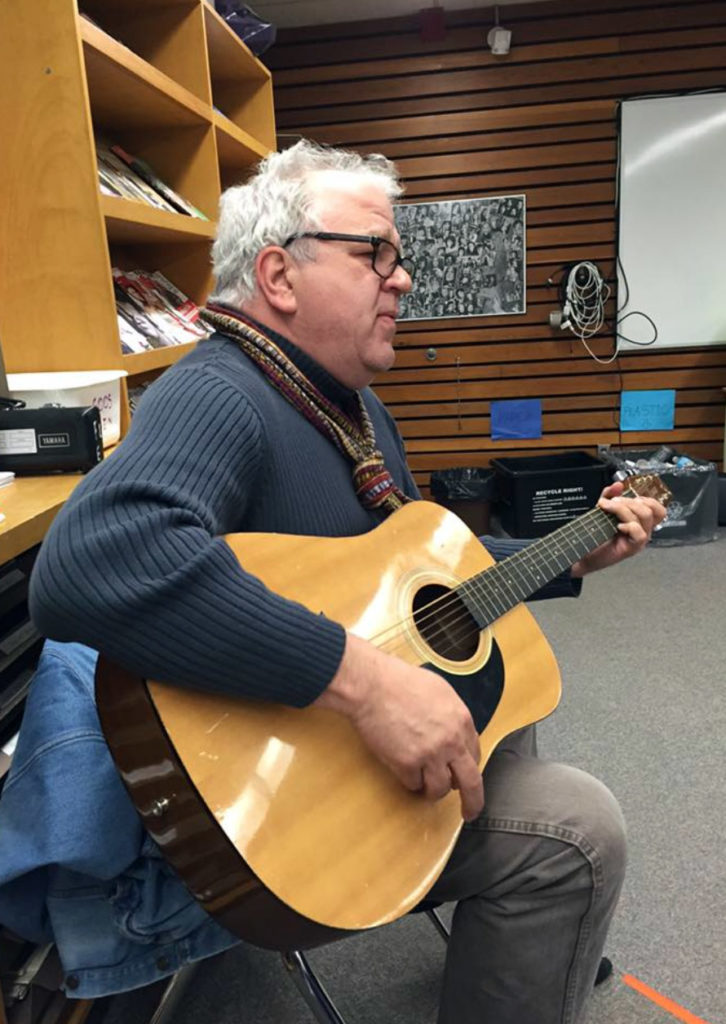 Dan at Ms. Veldhuis' Valley Heights' music class.
"I have a couple of sons with Down syndrome at very different levels intellectually and Dan is quite adept at teaching the basics to the one son and engaging and entertaining the other son."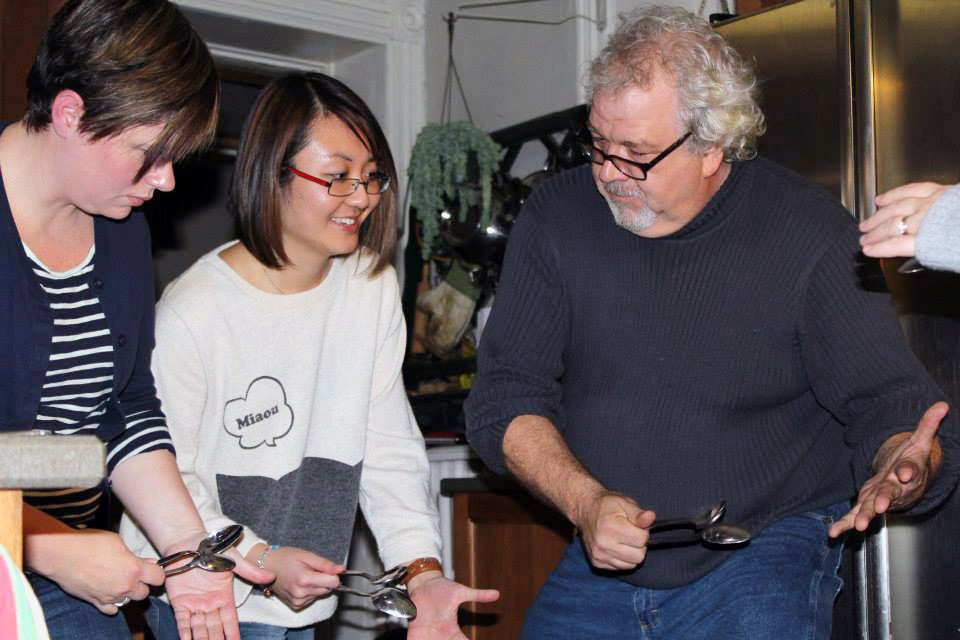 "I'll have you playing them in 10 minutes". And he did!
Masks and Puppets
Masks and puppets bring joy twice: first in the making (perfect activities for evenings, weekends and stay indoors kind of days) and again, when they are brought to life. Discover the magic that happens when masks and puppets take on a life of their own as a result of your own creative crafting. All ages and abilities. Available on Zoom.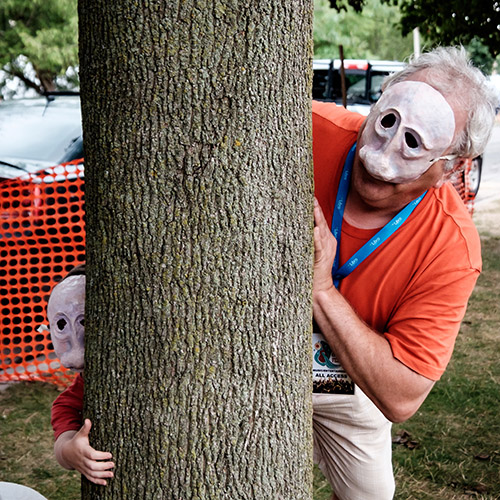 Dan and a participant playing in the "twin" masks at the Lynn River Music and Arts Festival.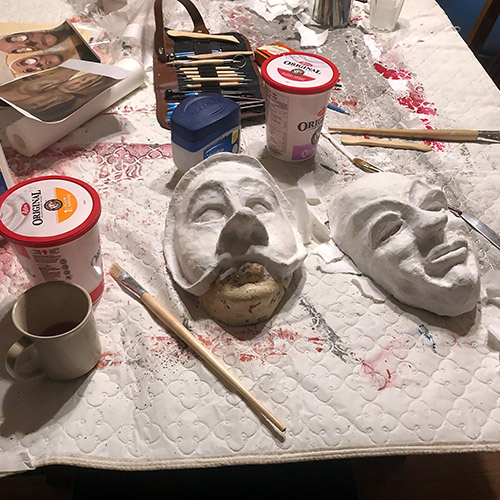 Learn how to make masks with a variety of materials.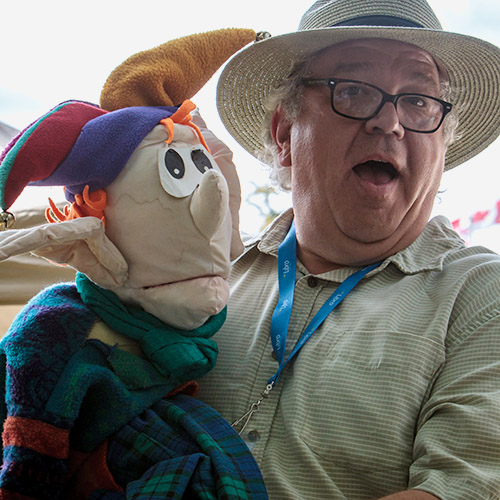 Dan and his co-host side kick puppet Emile.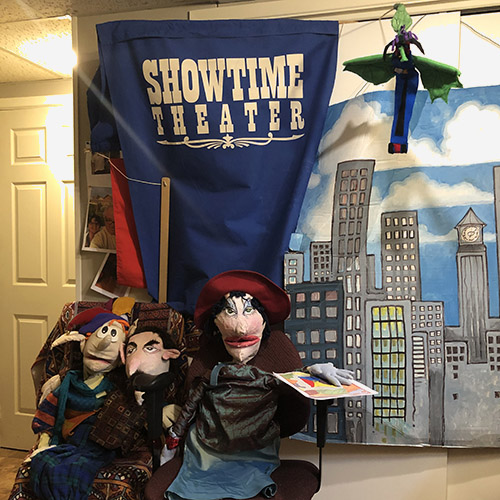 The FEWtv puppet cast nervously awaiting for showtime.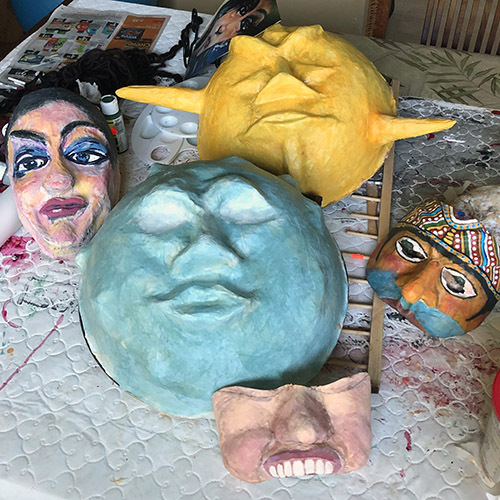 Papermache Character Masks and The Sun and Moon.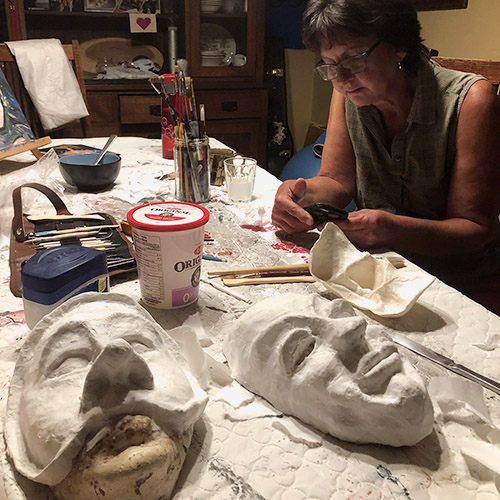 Rosemarie Alterman creating in the mask workshop.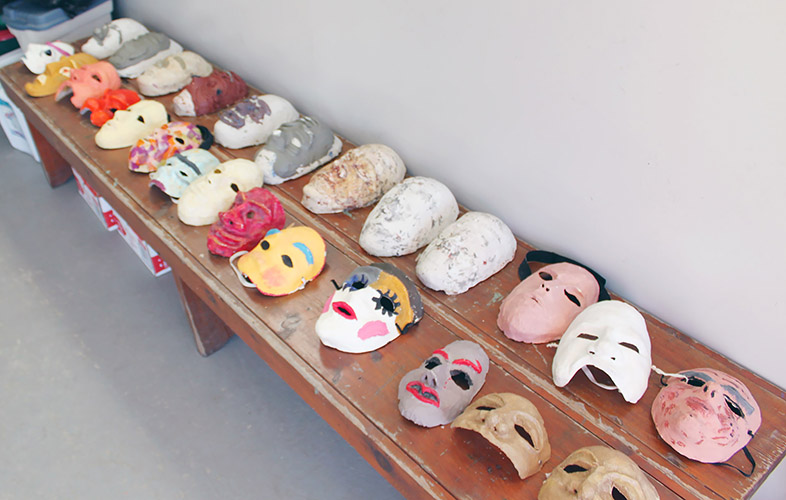 The Mask Display from a Mask making workshop.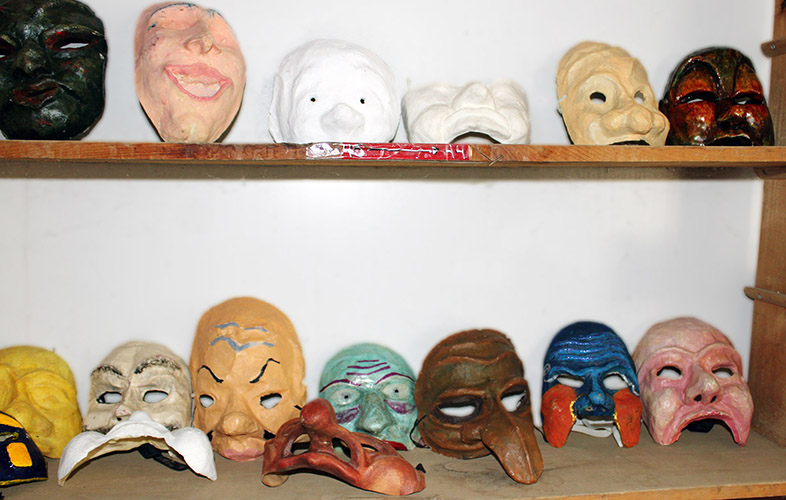 A variety of character masks.
Stone Soup Workshops
Inspired by the classic folk story, this is about creating magic out of dreams and collaboration. Always wanted to be in a bluegrass band? Let's make one! Always dreamt about recreating a favourite band song or comedy scene? We can do that, too. Stone Soup is whatever soup you want. Find your inner Mickey Rooney and Judy Garland and let's put on a show! Contact Dan and he will gladly add some fun and a dollop of joy to the recipe! Workshops are designed for adults and some will be designed for younger folk 6 – 13.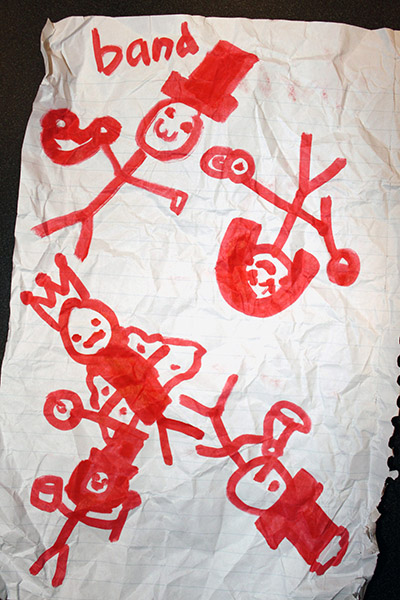 Theatre camp kid's drawing of the cast of our play.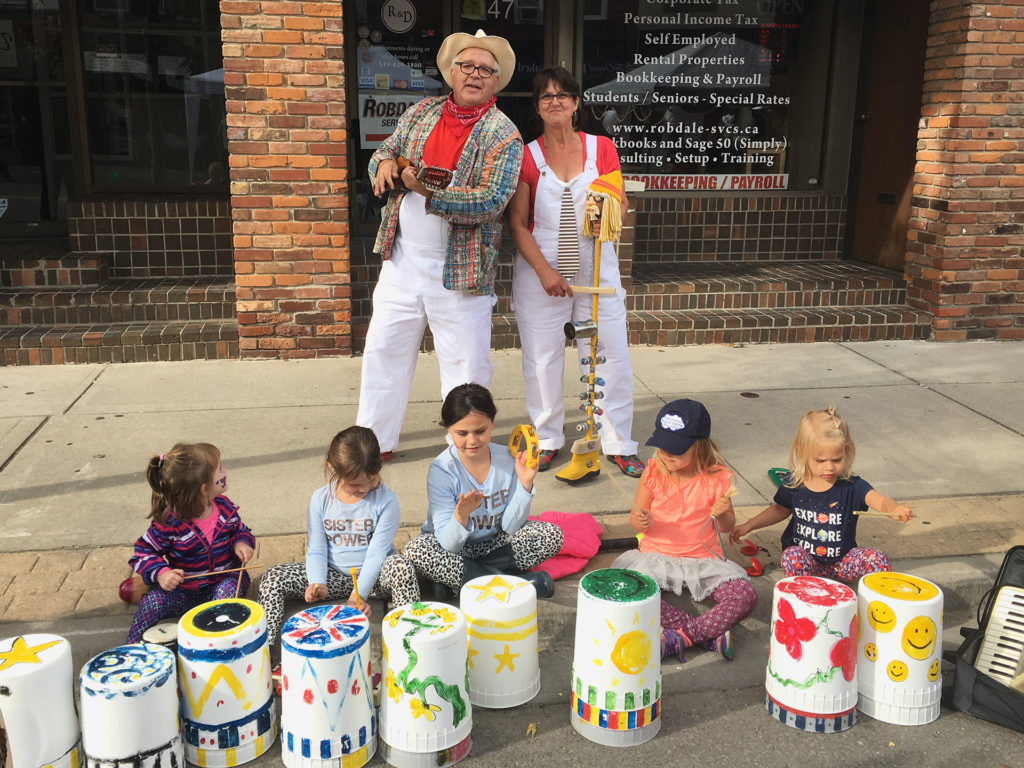 The Kitchen Party Orchestra performs in downtown Simcoe.
— Delhi Seniors Friendship Centre Theatre Workshops for Seniors —
In this project I teamed up with the Delhi Seniors Friendship Centre to offer Theatre Workshops for Seniors. We met twice weekly with a group that fluctuated with attendance on average about ten of the seniors. The Delhi Seniors Friendship Centre a non-for profit organization sponsored the Workshop Series. At each meeting I would guide the energetic and smiling group through a series of warm up games, traditionally used for bring the collective group before together, to get to know them, put folks at ease and to get the creative energy focussed and flowing. Then we began into a "Reader's Theatre" format (scripts are read and the actors read the script portraying the character whose part they are reading). Initially, the attendance was large enough to effectively run the exercises and partner up for the play readings. They loved it. The numbers grew and grew. The energy in the room was rejuvenating. The collective excitement led us to planning and rehearsing a culminating show, where we could share our "scenes" with an audience of family, friends and community.

 

In looking back on this great experience, it seems to me that the coming together was the thing. To play with others, to risk, to laugh, to smile. I am thinking that there is a Stone Soup project waiting to happen on line that can follow the same path. If you have some ingredients for the soup or perhaps know how to stir. Contact me.
The Art of Clowning
Discover your inner clown in a way that is organic, freeing and fun. Exploring physical and emotional expression through your natural humour will remind you of the rewards of keeping play in your life. Discover how the red nose (the smallest mask in the world), enhances awareness and an appreciation for the little things in life. All ages and abilities. Put some vroom in your zoom.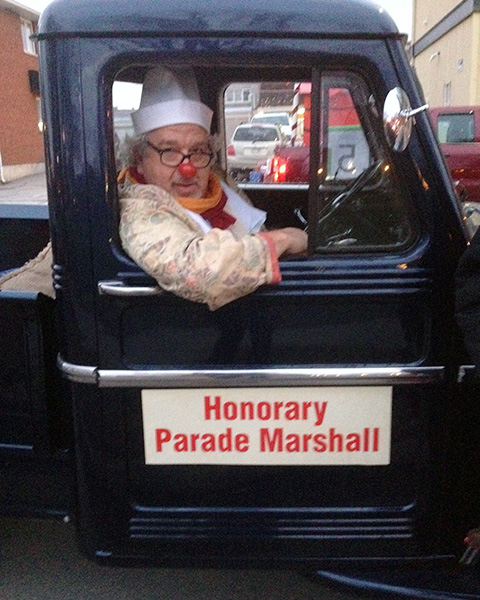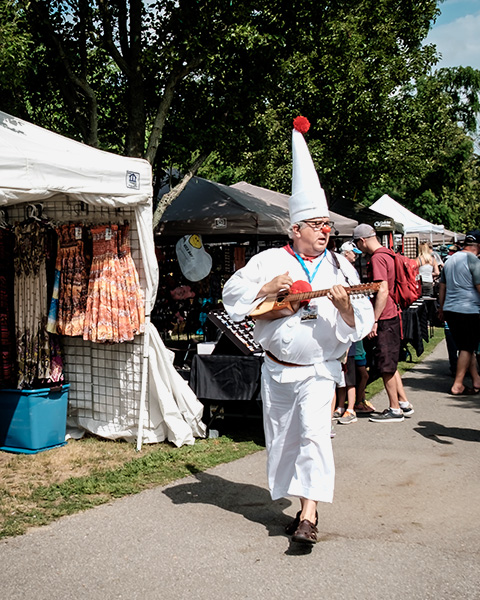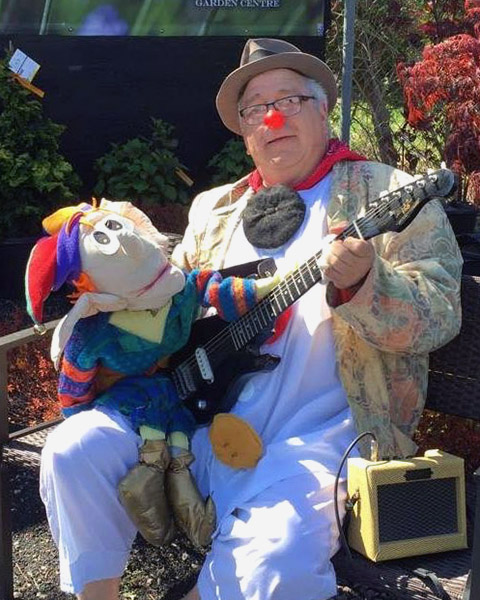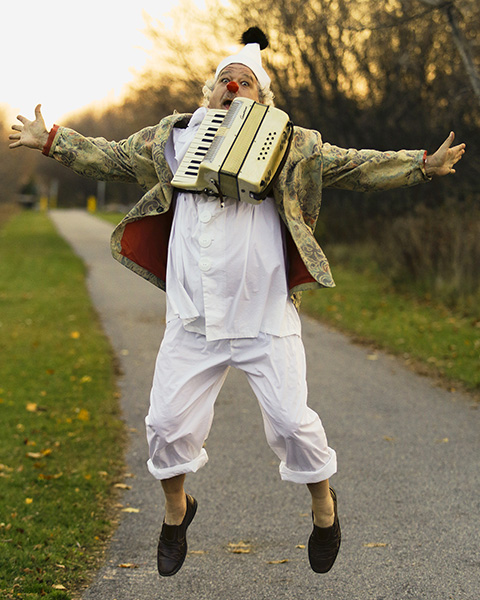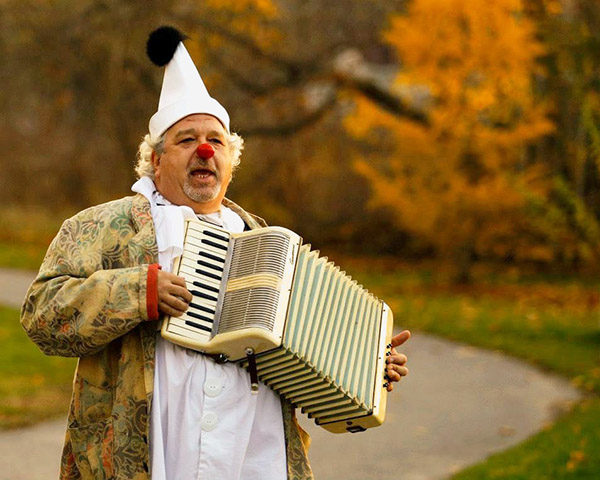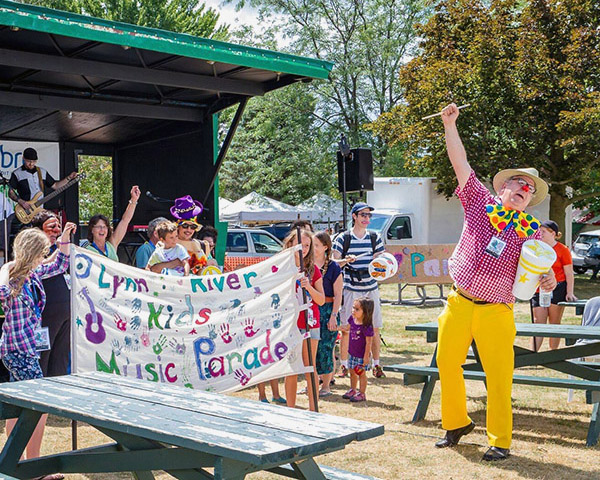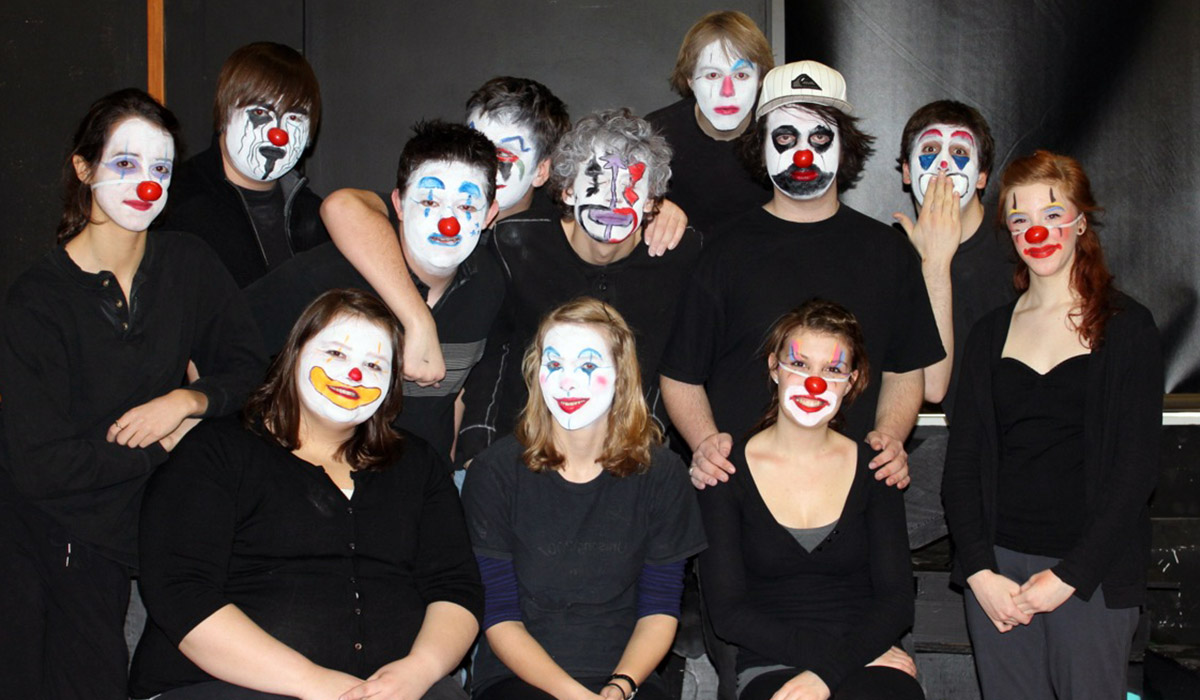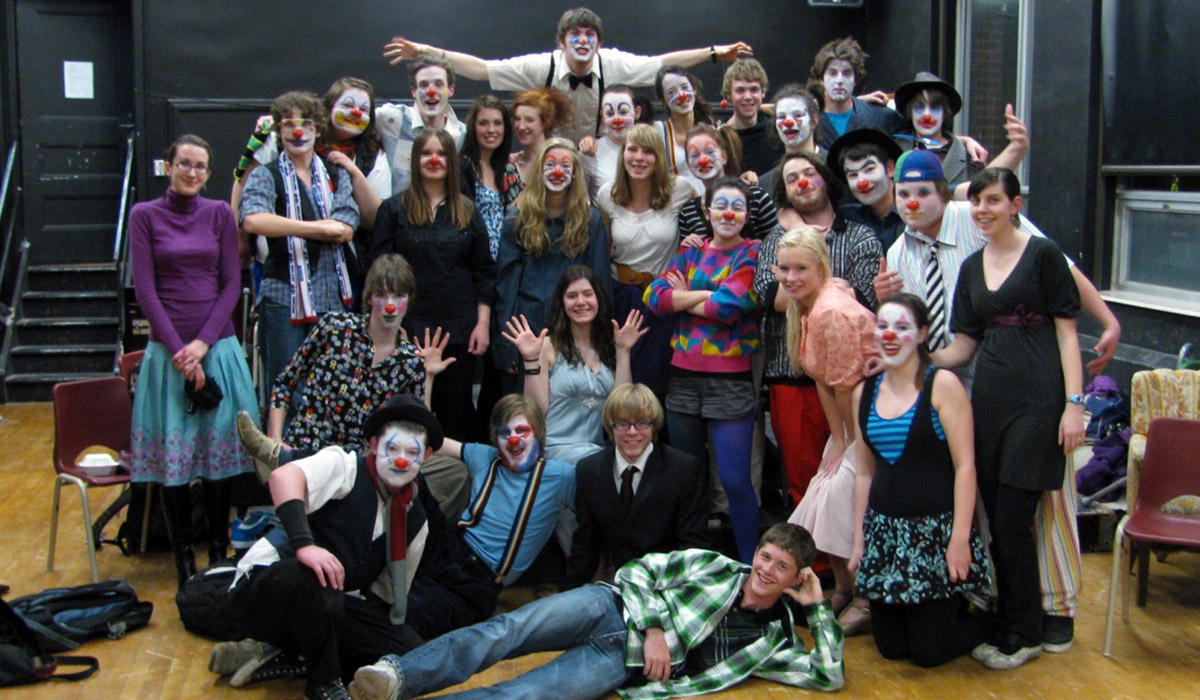 PCVS Clown Troupe. My buddy Joey Digiuseppe keeping them all gathered at the top!
— Attend an Art of Clowning Workshop which will be offered in February 2021 —
Contact Dan using the form below for more details.
Performer
An eclectic host and multi-instrumentalist who can engage with audiences of all sizes, ages and interests is a slice of heaven for Managers and Event Planners. From folk festivals to union gatherings to farmers' markets, whether guests are passing through or staying for the day, when Dan is wrangling the event, everyone can relax enjoy the party. Combining music, puppets, comedy, games as needed, Dan's humanity and camaraderie make any event a joyful shared experience.
Comedic Music Improv
Dan's musical improvisation skills are live and one-of-a-kind, inventing lyrics and melodies on the spot whether solo as The Song Chef or with his trio The Three Martinis. Dan takes suggestions from the audience for songs "never before written" and magically generates hilarious and personal lyrics for any celebration: from birthdays, anniversaries and divorces to funerals and office parties. Adding comedic music improv to your event gets everyone clapping for more. Hit "Record" and you'll have a keepsake forever.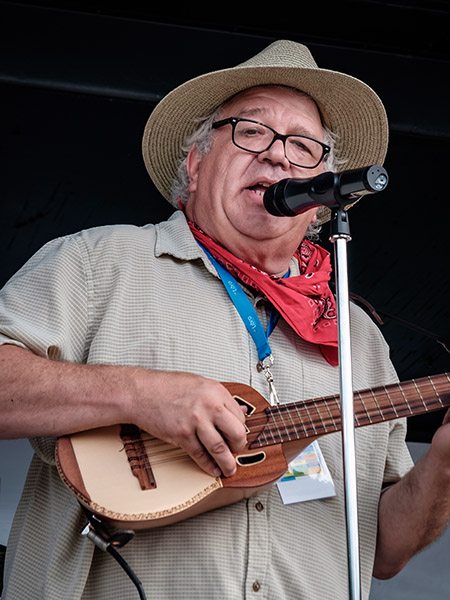 Dan Fewings singing a song while emceeing the Lynn River Music and Arts Festival.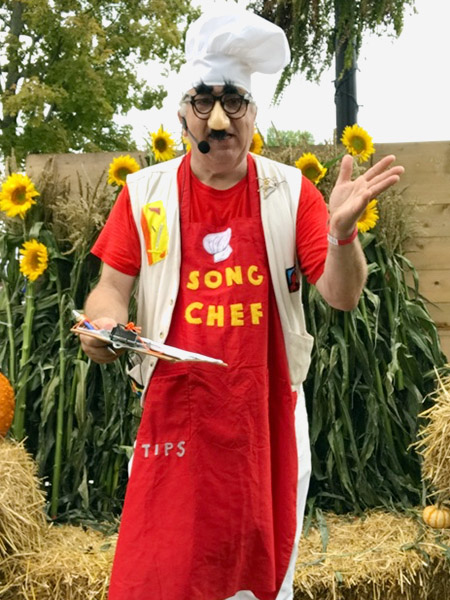 The song chef in the act…Master of Ceremonies at Beerstock in Port Dover.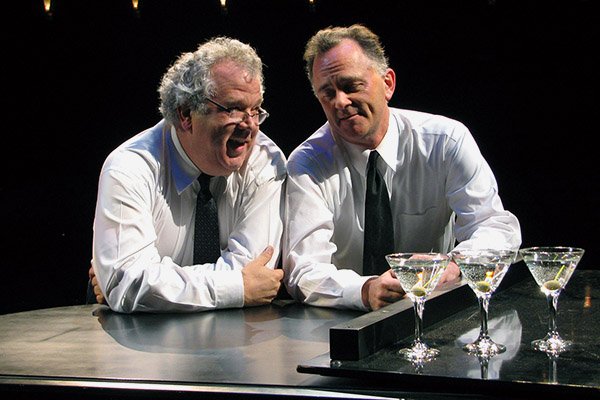 Two of the Three Martinis: Dan Fewings and Rob Phillips.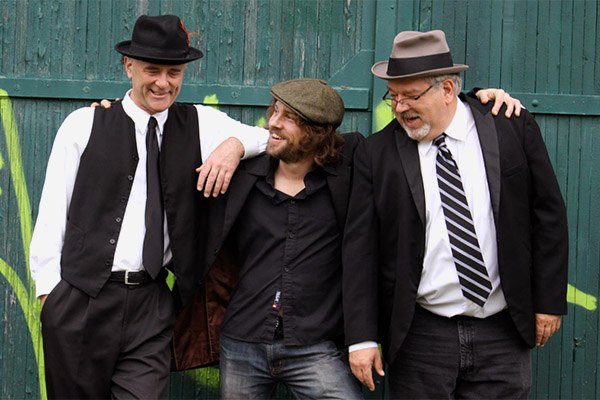 Rob Phillips, Ryan Weber, Dan Fewings.
Facebook Live Games
Create your own live party with your favourite Facebook friends and let Dan entertain your group with games, challenges, music and songs. Name that Tune, Partini and What Not are just three tricks up his sleeves but there's plenty more to keep you on the edge of your seat. Collect points and possibly prizes – the perfect fun engagement for you competitive types! Ideal for a private party or fund raising opportunity.
What started off as a Covid 19 survival strategy for interacting with others and trying to help ease the initial emotional effects of it Dan started doing a Facebook Live show. He spent hours of the day putting ideas together, dusting off a puppet or two, using old theatre set pieces and improvising some tunes and interacting with those who were viewing and adding comments. It caught it, even if only with Dan. It wasn't enough for Dan to be communicating one way and so he challenged his viewers to comment often, give suggestions for the myriad of game-show-like questions he would ask.
 If all this has you curious check out Dan on Facebook. You're bound to see what the fuss is about with the Dan Fewings Facebook Live show.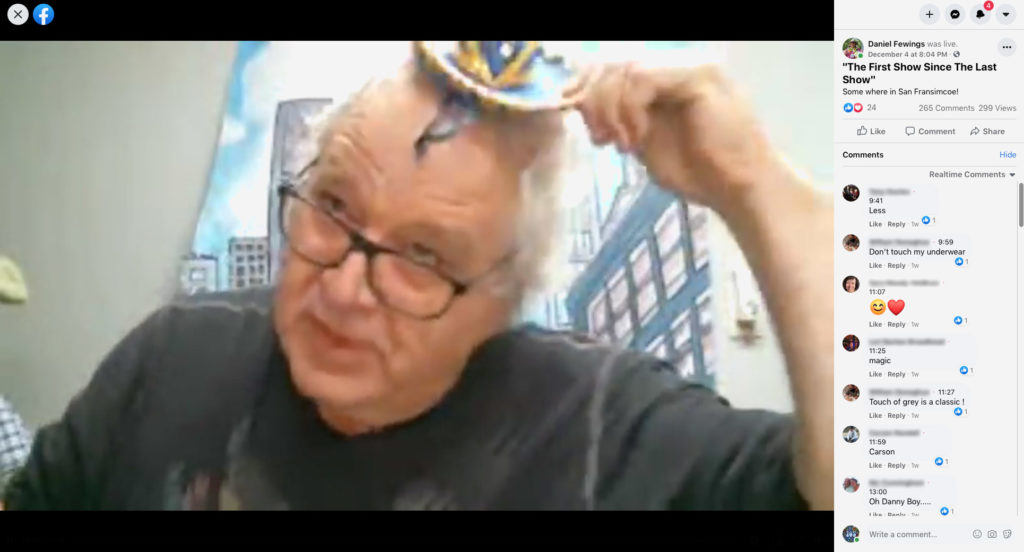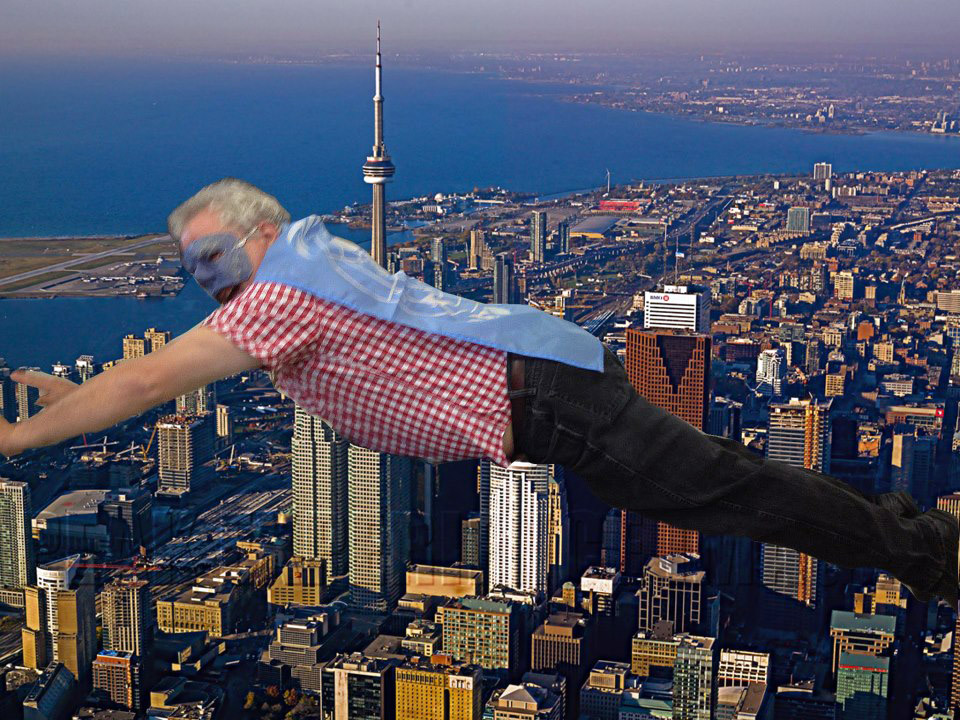 Custom Events
Who doesn't want a Kitchen Party Orchestra (ideal for seniors & kids), a Driveway Movie Theatre (he not only brings the movie, he's also the intermission entertainment) or a Song Gram (online or safely distanced). Multi-instrumentalist, singer, accompanist, game show host and puppeteer; hire Dan for your next house party (online or safely distanced), community event, online gathering or variety show. All you need is an event that needs a certain something special: Invite Dan along and he'll do the rest.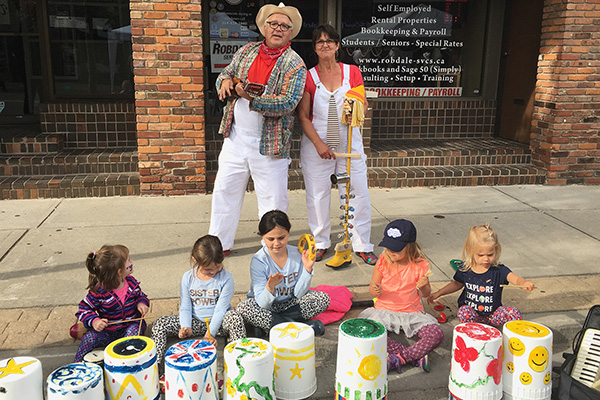 The Kitchen Party Orchestra and the bucket brigade.
Dan as parade Marshall Lynn River Music and Arts Festival parade.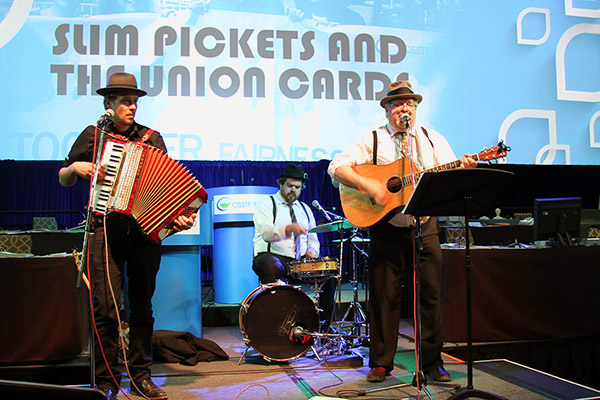 Slim Pickets (Dan Fewings) and the Union Cards (Benj Rowland and Josh Fewings). Sheraton Centre, Toronto, November 30, 2013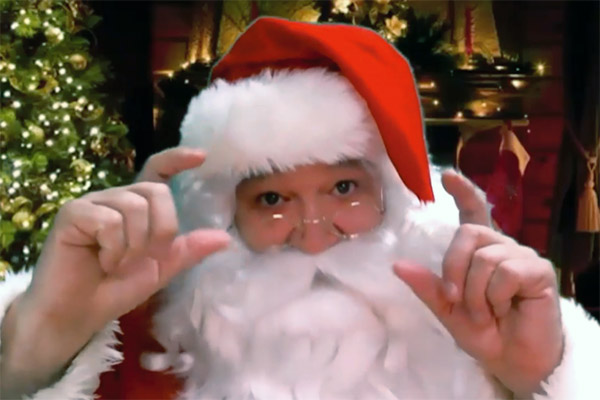 Dan and his good friend Joe Digiuseppe have rekindled their friendship over zoom and somehow found a direct connection to the North Pole.
Fun Raising
A host who can engage with audiences of all sizes, ages and interests is a slice of heaven for Fund Raisers, Managers and Event Planners. From folk festivals to farmers' markets, whether guests are passing through or staying for the day, when Dan is wrangling the event, everyone can relax enjoy the party. Combining music, puppets, comedy, games as needed, Dan's humanity and camaraderie make any event a joyful shared experience.
Camp Kerry Society is an organization that does phenomenal essential work. I have had the opportunity to do some workshops in a virtual conference they courageously offered when the Pandemic changed their plans and it was as warm and connected as when I offered workshops with them (teaching mask making and mask improvisation) in my first Camp Kerry Retreat 7 years ago.
As one of my favourite literary characters, the Little Prince said, "what is essential to the heart is invisible to the eye". Camp Kerry Society is that kind of essential!
They can tell you about themselves way better than I ever could. So I have included a link to their site. I am lucky and blessed to work with this group of folks.
Stone Soup Productions
Is there a creative soup you'd like to make? Bring your special ingredients to the mix and…
These productions will appear from time to time, giving participants (who have taken part in a Stone Soup Workshop or not) a chance to put together a show, a band, a radio play a zoom drama. More choices of soup than Campbells!
— What is a Stone Soup Production, you ask? —
Stone Soup Production example #1
"Wednesday Rehearsal"
Song: We Need One Hundred Dollars, to Tune The Piano
Piano: Rob Phillips
Improv lyrics: Dan Fewings
Off the cuff total improv with Rob on Piano, Steve Russell on camera and Janette Sanderson, dancer.
The Story behind the song.
This was created right before you eyes on this clip during the very first "Stone Soup". I invited a number of my friends to take part in a grown up theatre camp for a week. A few of my friends came and many weren't able to for whatever reason. It was truly a Stone Soup with me bringing the Rock. Rob Phillips, Steve Russell, Jeanette Sanderson, Esther Warren and a couple others came to take part bringing their special ingredients.
In the middle of the week the stage manager called and told us she couldn't come, other folks had promised to come but one by one they weren't able to make it. Then the 'straw that broke the camels back' Rob confessed he could not longer dodge the out of tune keys on the piano. "Danny", he said, "we need $100 to tune the piano". I was broke and broken, after Rob made the pronouncement. Unhealthy, discouraged and almost ready to run, leave or cry when Rob started making up a piano ditty and the improvisation took over….this is the improvisation that transpired over the next few minutes.
It was during this week that Rob and I figured out that together we were spinning some pretty neat improvisational songs. With his rich and beautiful piano chops and my mind too fast for my own good but great for improvising songs the Three Martinis were born once we added my friend Jimmy Bowskill on upright bass to the mix.
Thanks for watching! It is my favourite improv bit. It taught me to trust "jumping off the cliff" and don't panic!
The tap dancing was just a bonus!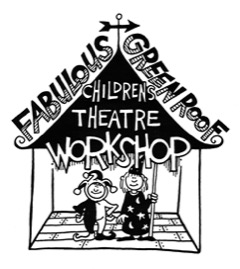 Stone Soup Production example #2
Lynnwood Arts Centre
When I was 18 I was hired by the Lynnwood Arts Centre in Simcoe, my home town to direct a week long children's theatre camp. We worked together with the participants – kids 6 to 13 and basically put a show together from our collective imaginations. We would formulate the narrative as we went along. The kids loved it, I loved it and the Arts Centre loved it.
I moved to Lindsay and taught Clowning to children and then when I moved to Peterborough to go to Trent University and after some fancy footwork and clowning, I was accepted into theTrent/Queen's Concurrent Teacher Education Program. After that I joined the ranks of teachers and began to teach Highschool in Peterborough! I loved it and it kept me hopping for sure. One thing I did miss was working with younger kids like I had when I was clowning on a regular basis. So I decided to start my own Theatre Camps. I never strayed far from the original design of the camp that I had thought out when I was a younger clown/man. I will be writing a blog on this at some point so I won't elaborate here, but suffice to say the "Theatre Troupe In A Week" format worked so well I continued it throughout my teaching years (in the summers and March break) and continue to this day (up until Covid 19) to direct these Theatre camps. I was delighted to work in partnership with The Market Hall in Peterborough where I helped them create a solid foundation for their Creative Arts Camps. I have worked with many organizations to deliver quality kids programming.
At last count I have directed over 51 one week Fabulous Green Roof Children's Theatre Workshop Camps. Each year students returned and many for over 5 or 6 years. It always made me feel so great when those students who were participants, loved the camps so much they would volunteer once they were too old for camp and some even came to work for me or the Market Hall.
 While Covid stopped some Theatre Camp plans that Waterford Old Town Hall's Claire Senko and I had developed and were on the precipice of delivering. I know that there is much that can be done on in Zoom and other platforms. If you are an organization and looking for something a little different lets talk – perhaps we can design a project that will suit your goals as an organization or a home schooling group.
Sewing
— "How I Came to Sew" or "My Mother's Sewing Machine" —
A few years before my mother passed away, she left me her sewing machine. I had asked for it because when I went to theatre school in 1976/77 I studied Theatre Arts in Welland at The Niagara College of Applied Arts and Technology. The program was an intensive production program with a concentration in the Theatre Production areas. It was my second choice for institutions as I had been looking for more of a performance program, alas it was the program I was accepted for. I was 18 and like many students who venture off after high school to college or university the life learning overwhelmed my ability to be a student. Certainly the costume design class was just out of my 18 year old ability to focus that long. First year away from home, first time doing a lot of things, everything but applying myself to learning to sew. At the first semester's end the Costume Design teacher, Joan Davies was kind and struck me a deal. "If you promise to take it next semester I will give you the 51% needed to pass". As well intended as I was in keeping up my end of the deal, I got the 51% but circumstance and misspent energy prevented me from taking the course. I received the credit but didn't sign up to take it second term. That always bothered me…so many years later (about 38) I got my mother's sewing machine and when I moved to the area I grew up in I decided to get it out and tinker with it. I found it was already loaded with thread and ran like a charm. As the days went by I found it more and more intriguing. I loved the whir of the motor, and i started sewing – straight lines, back and forth, getting stuck, reading the manual. Amazingly I began to have deja vu like flashbacks of being pre public school and sitting with my mother at the machine. I remembered where she would reach to flip the levers, it was like I was remembering the apprenticeship my sitting beside her so many times had afforded me. Something in the act of sewing (even just straight lines) was so striking. Then I discovered a fabric store (that is another blog entry, another time). As my time progressed with it I wanted bigger challenges. Hanging out with my brother who painted and loved painters. I learned lots about many artists. Surprisingly even at a young age I learned to love lots of painters – Klee, Kandinsky, Van Gogh, Modigliani, Picasso and many more. One artist for me stood out beyond all the others. I believe it was the clown in me that would always gravitate towards Miro. So playful, so much joy so exciting. As I went through the Miro catalogue of paintings in various books, I found what I wanted to sew. So when it came time to sew, I sewed Miro! I don't make claims of being an visual artist, more a fabric craftsperson who was addicted to the sound of the motor and dancing in the creative mind of Miro. I made a series "Sew Miro". Thanks to the Joanne Calderone (curator at the time), of the Ashburnham Ale House I was able to show my "Sew Miro" pieces.
— Picassew wine bags —
A few years later a friend of mind directed Steve Martin's play "Picasso at Lapin Agile" and she wanted to get each member of the cast a memento of their efforts and the production so she commissioned me to make Picasso Art Wine Bags. Those works are here for you to see. If there is something you would like me sew contact me and will get the engine on the sewing machine moving!


FEWtv
FEWtv is my own television network. I realized along time ago that there is an advantage to owning your own network. I need way more than one channel. Sometimes I'm the cooking channel. Sometimes I'm the kids channel. Sometimes I'm Let's Make a Game Show and other times I'm Howdy Doody. This season we are featuring some of the lost Carson Randall Radio Show On TV episodes. Watch for that in January.
Keep your eye on this www.youtube.com/user/fewtv,  as new content will be flowing in the New Year 2021. Merry Christmas and Happy New Year from all of us (me) at FEWtv.